Stars in their eyes - June 2022
In continued support of improving the children's physical health and mental wellbeing, our children have taken part in a Federated 'Stars In Your Eyes' competition to promote and celebrate the wonderful singing and performance skills of the children within the BeDifferent Federation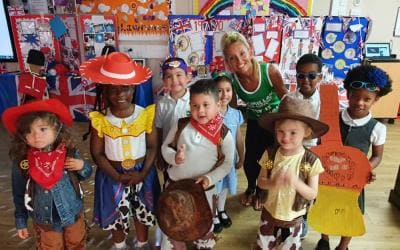 We are proud to be able to announce that we raised £1434 in support of
Macmillan Cancer Support.
This year we have learnt what it means to be responsible, charitable and selfless and our Stars in Your Eyes fundraiser has embraced these qualities and more as we have come together to raise as much money for MacMillan cancer care as we can. MacMillan cancer care is a charity very close to many people's hearts, including Mrs Bull's, who will be running the London Marathon and an ultra-marathon later this year to raise funds for this very special cause.
Each class prepared two songs to perform to all of the children in their year group within each school. The songs were judged by our distinguished judging panel, who scored each performance on:
The quality of the vocal performance - pitch, tone and melody
The performance of any accompanying moves used
The ability to sing collaboratively - in time to the music, memorising the words
The ability to engage with the audience
We enjoyed listening to a wonderful array of songs from a number of different genres and hearing our children's beautiful voices.
Thank you to all of our families who donated and supported by providing outfits, accessories and props to make these performances so special.
Mrs Bull